My husband, Bobby Araullo, real estate agent and I, Angie David Araullo, Principal Broker have been in business now for several years and share a love of this incredible island of Guam and passion in real estate. We want to make sure that if you purchase real estate on Guam, you make a thoughtful, informed decision with our professional and motivated associates.
Our knowledge of the real estate industry would serve as your biggest advantage. We have numerous years of real estate work-experience, from our stay in California, and today serving your needs on, here on Guam.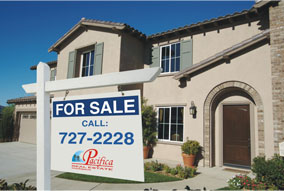 We stand by our saying that "Our Clients Comes First". We believe that we can provide you the utmost service possible. 
Be forthright and committed, is how we are, as we take care of the business professionally with the very least inconvenience to our clients and customers.  We intend to over deliver with less promise.
The people of Guam are very well known for their hospitality and family value. We just don't see you as Clients and Customers, but we see you and welcome you as family.
We understand the importance of patience and thoroughness during your real estate transaction. Our knowledge and experience can guide you through the real estate process and help you with all of the details before, during and after the sale.
Our Mission Statement
For Pacifica Real Estate, what always comes first is the best interest of our clients.  We believe that one of the greatest experiences in life is doing what you love best, and this is our commitment to the development of a lasting client relationship.  We will do our very best providing the precise, truthful expert analysis and positive real estate recommendations.  Ultimately, we will work hard for every single customer to help them attain their dreams.  Our clients' and customers' continued trust is our wealth.
Our Goal
Truth need not to be bent to make sale. Our aim is to ensure that buying and selling real estate will be as lucrative as possible while preserving the utmost degree of service, less costly, faster, and easier for everyone, resulting to a client and customer satisfaction.  We may under promise but will definitely over deliver.
For more specific details please contact us.  We hope to meet you soon!